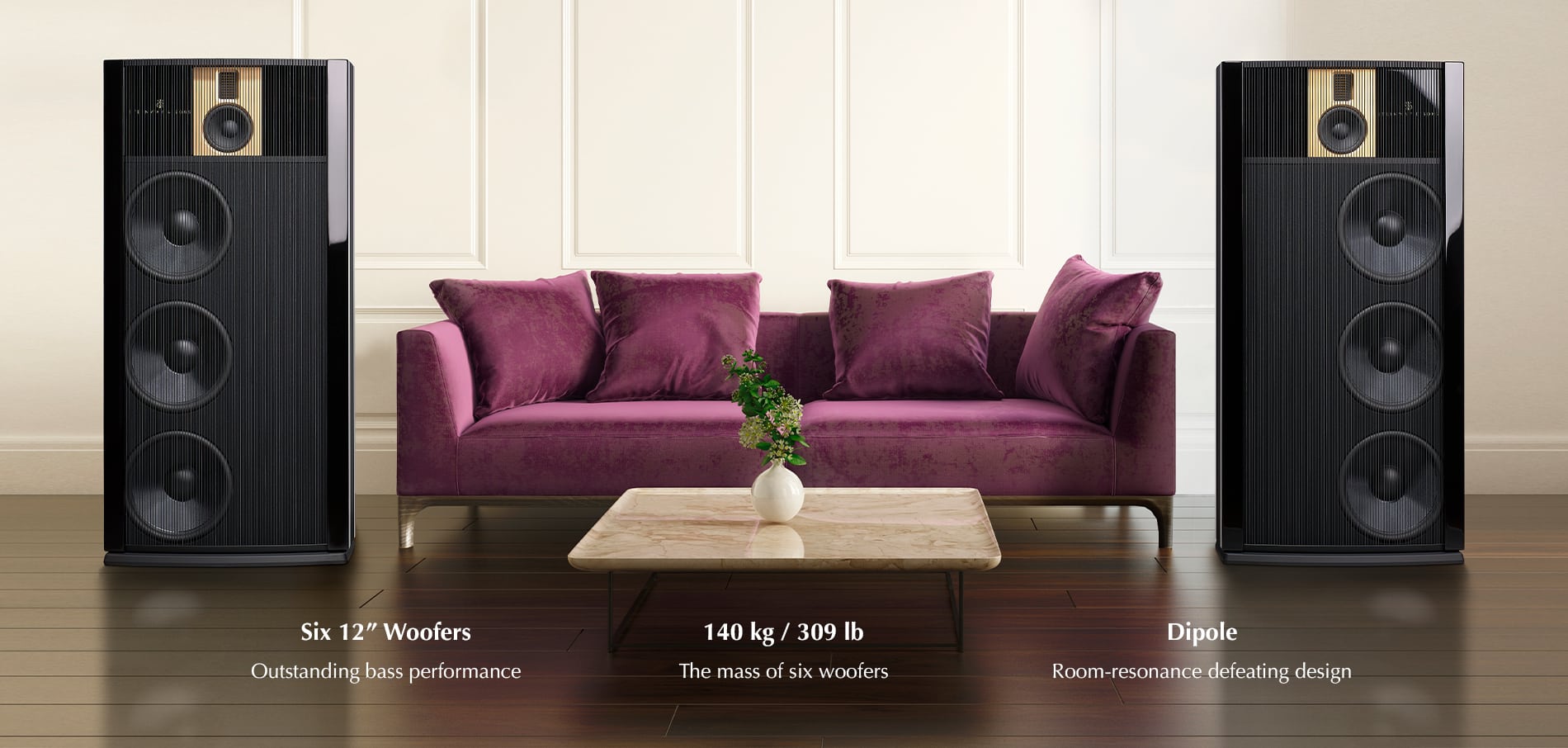 This full range loudspeaker is designed for creating the holographic stereo reproduction of the Steinway & Sons Model D speakers through use of the dipole speaker concept – all in a smaller package. The Steinway & Sons Model B not only looks powerful with its impressive line-up of drivers, but together with the digital crossover and true quad-amplification of the 4 x 400-watt digital amplifier, Steinway & Sons Model A2, the resulting sound reproduction is nothing short of stunning.
Extraordinary performance
A dipole speaker requires a large front area to separate the front and rear radiation of low frequency sound. In the Model B, the sides are elegantly folded back to add to the acoustic width of the speaker. Furthermore, the six pieces of woofer add up to an extremely large radiating surface capable of producing a linear output down to 25 Hz.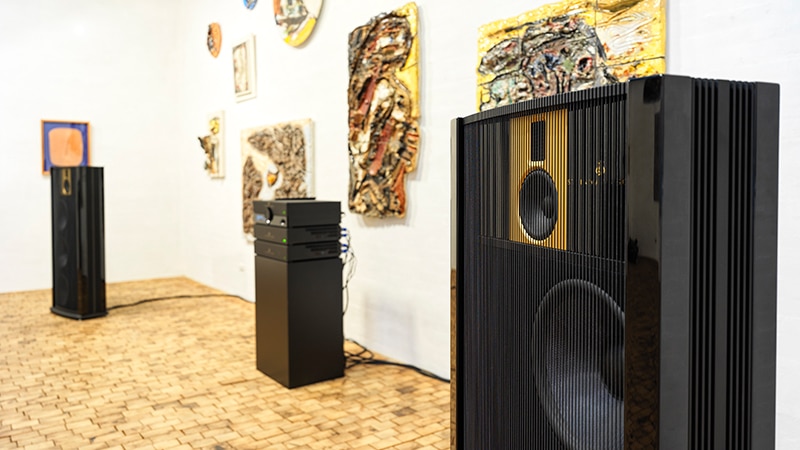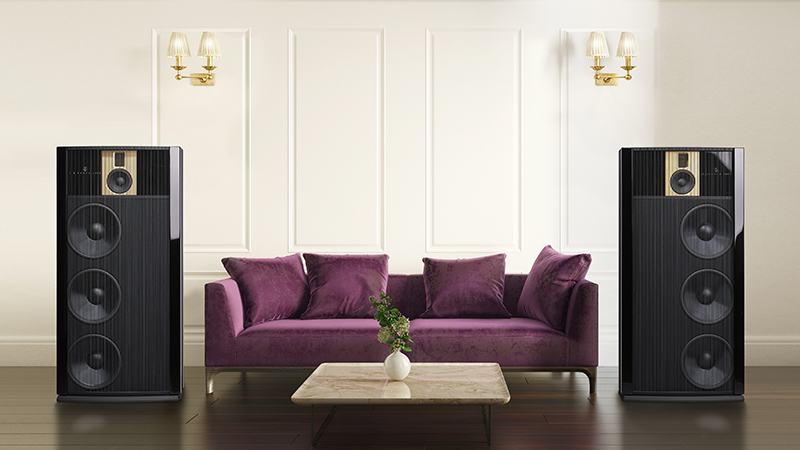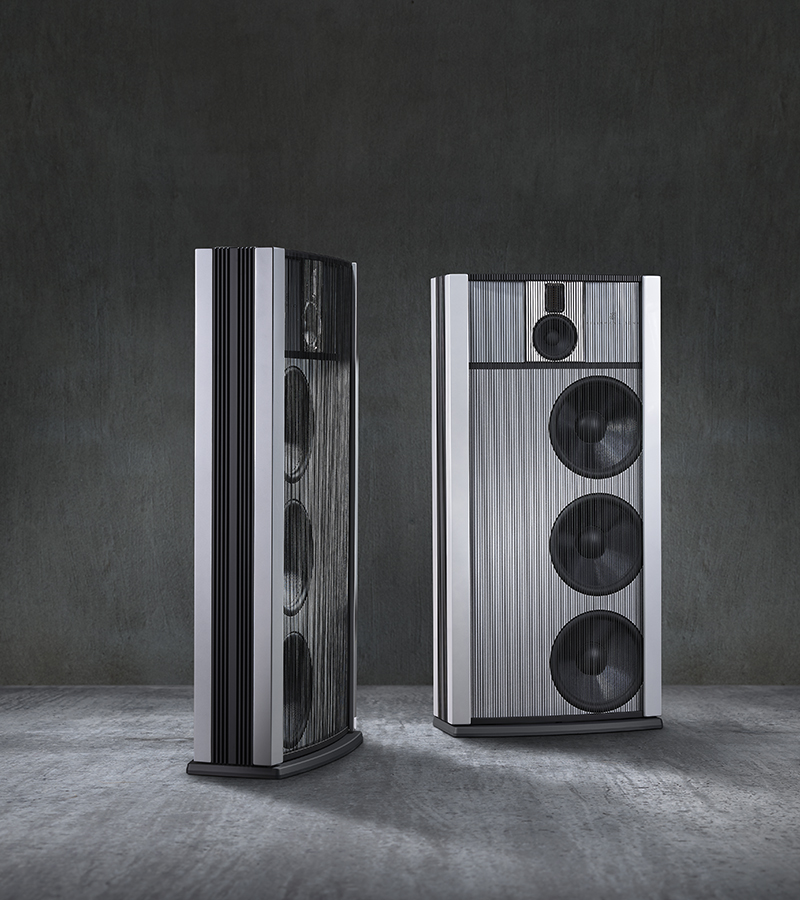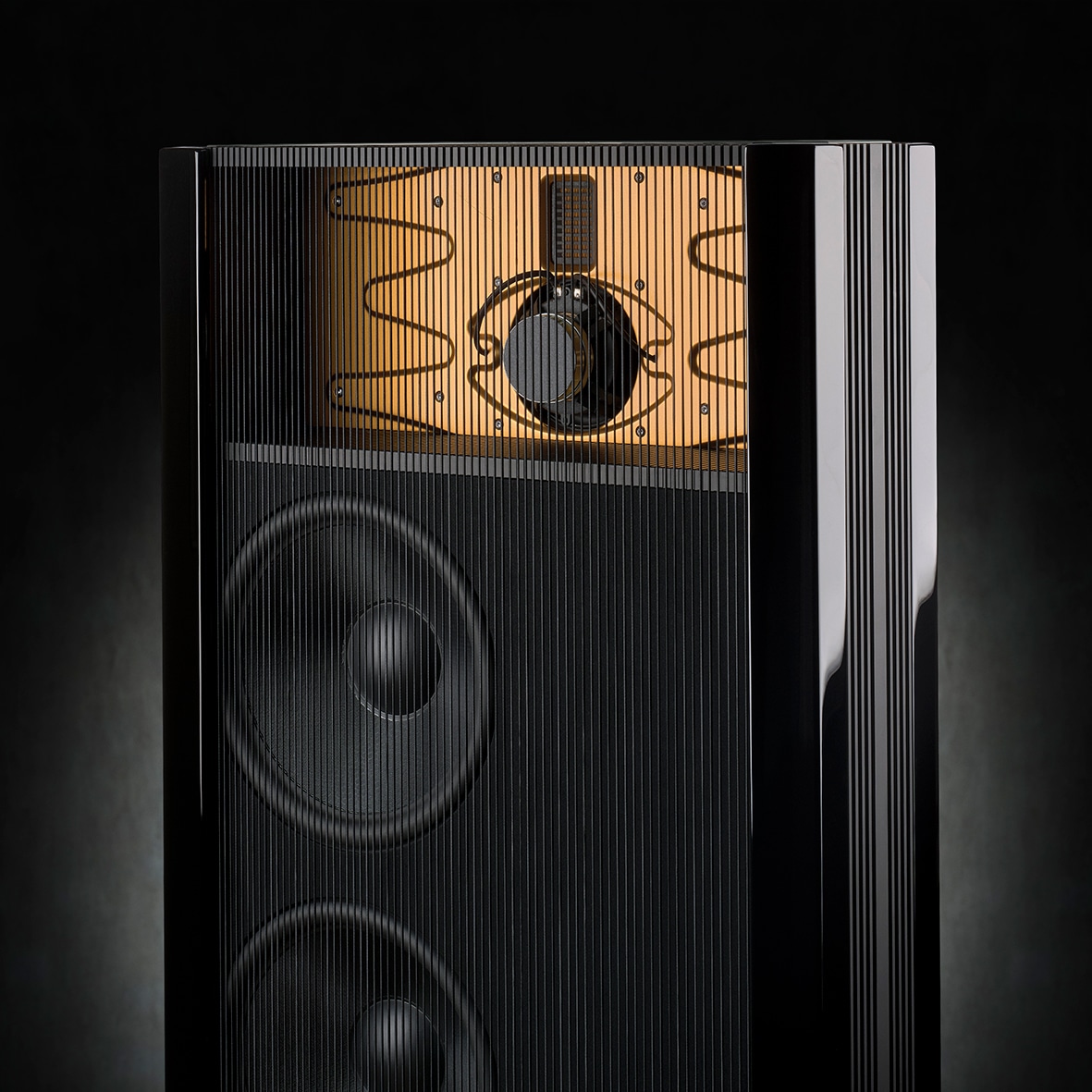 Ingenious dipole design
The Model B is a loudspeaker like no other. Tweeter, midrange driver and woofers are arranged in a dipole design, exiting the sound in the room like an instrument would and achieving a truly holographic stereo reproduction. Conventional dipole speakers usually lose sound energy in the lower frequencies, but this unique design with three large woofers offset with three more on the back lead to a substantial and rich sound. While the bass energy towards the listeners is fully kept, bass energy at the sides acoustically cancels out, reducing unwanted sound reflections from the room's sidewalls.
A bass performance out of this world
With three large woofers visible on the front and three more on the back, it becomes clear this loudspeaker is capable of playing bass. But the outstanding bass performance is the result of an even more remarkable construction detail: In every conventional loudspeaker, the woofers have to work against the compressed air inside a closed cabinet. Furthermore, any enclosure adds sound coloration. In the Model B, all woofers are mounted on an open rigid aluminum frame without any enclosure limiting them. Six woofers with glass fiber cones add up to an extremely large sound-radiating surface, capable of producing a transparent, fast, yet deep bass down to 25 Hz.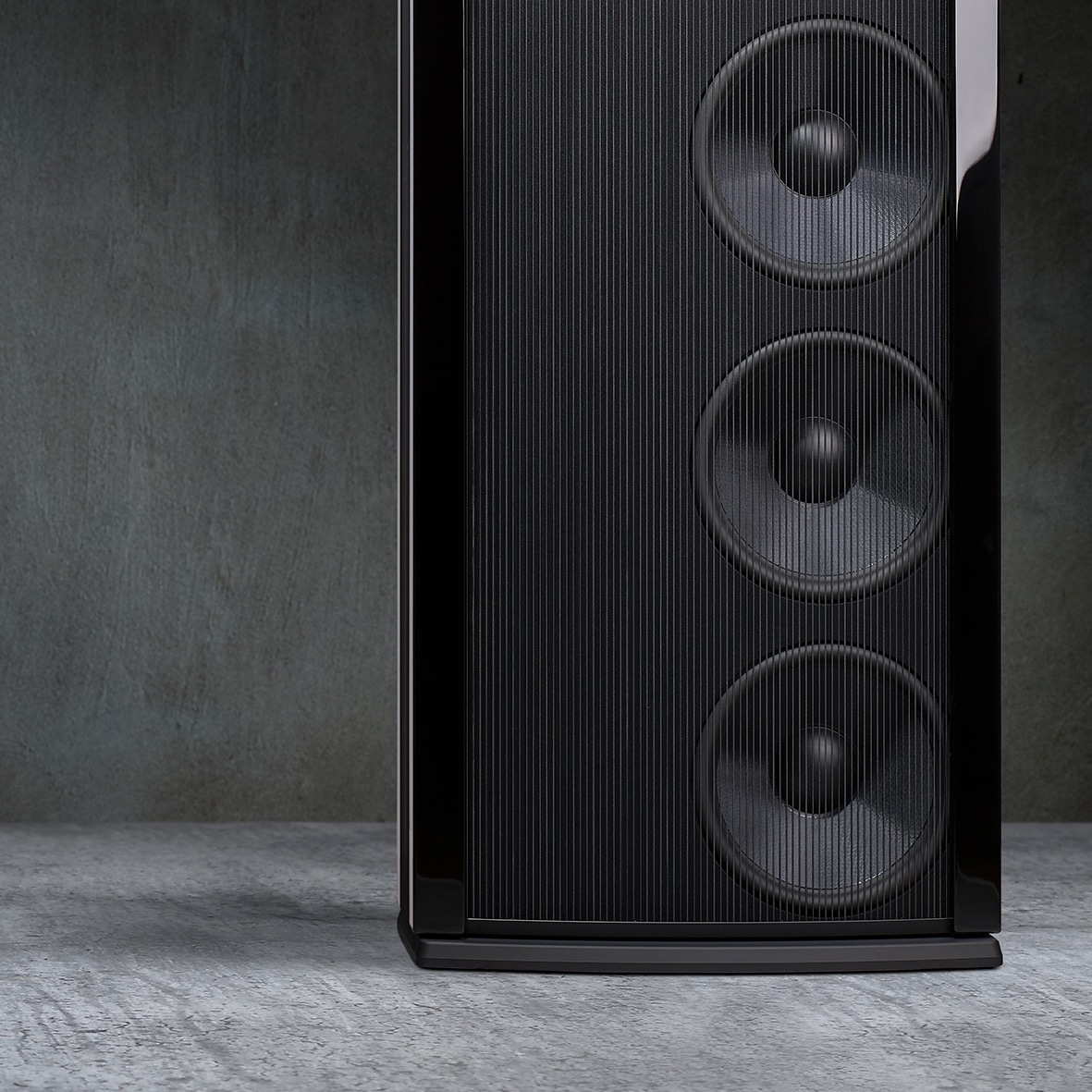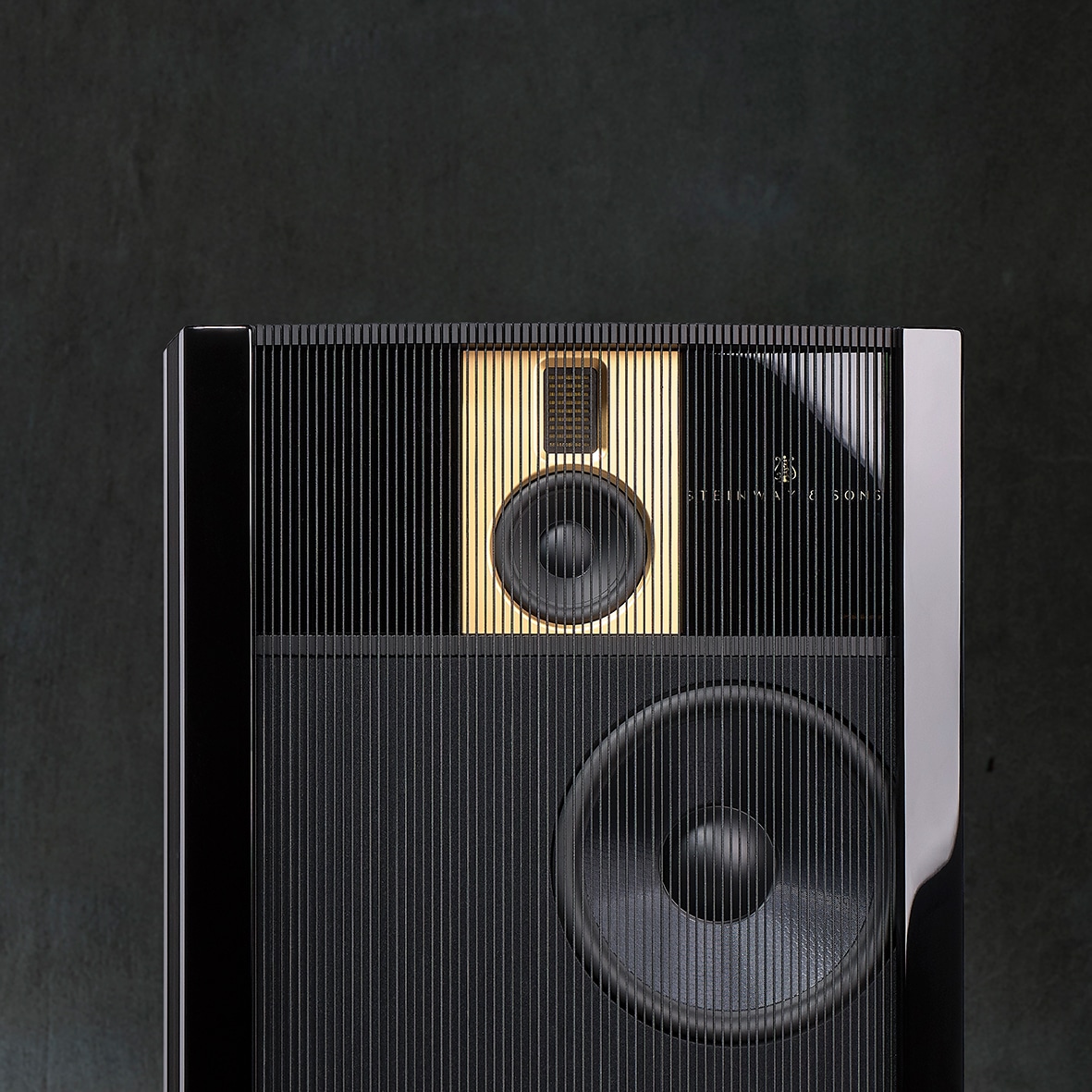 Extraordinary tweeter design
The remarkably fast and dynamic bass performance must be matched in the higher frequencies. The Model B uses the company's own Air Motion Transformer with an ultra-thin, folded Kapton diaphragm between extremely powerful neodymium magnets, achieving a completely clear, distortion-free performance even during the loudest crescendos. The tweeter and midrange driver are mounted on a gold- or chrome-plated solid aluminum base, complemented by high-quality-lacquered side panels, giving the speaker its unmistakable Steinway & Sons appearance.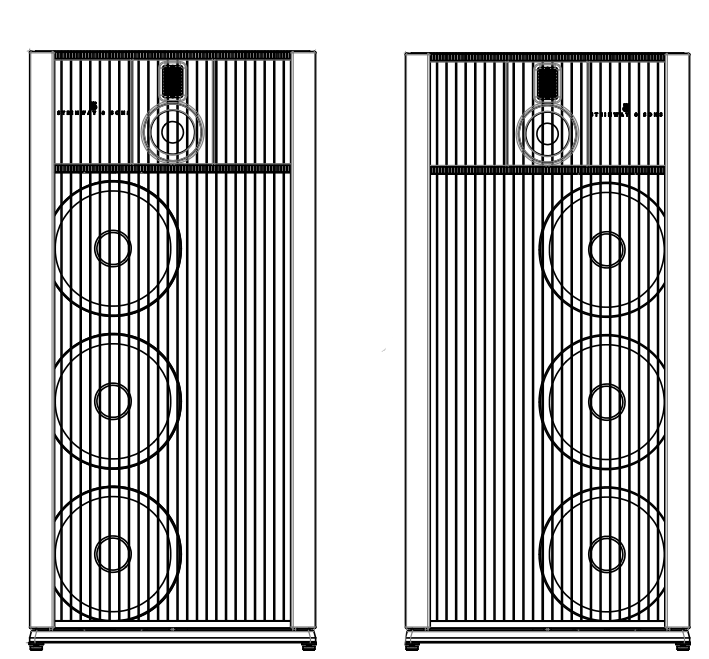 Specifications
Tweeter: Air Motion Transformer
Midrange driver: Size: 5″, cone material: aluminum, die cast basket, Neodymium magnet
Woofer: Size: 12″ / 6 pcs, cone material: glass fibre / honeycomb, die cast basket, vented magnet
Amplification: Model A2 Amplifier / Ax400 watts
Amplification channels: 4
Enclosure: Full dipole design, aluminum baffle and frame
Frequency range: 25 to 22,000 Hz (-3dB)
Max SPL @ 1m: 115 dB
Crossover: Digital/stored in amplifier
Connections: 4-way Neutrik / 2 pieces
Placement options: Free standing floor speaker
Dimensions (W x H x D): 60 x 124 x 31 cm / 24 x 49 x 12 in
Weight: 140.0 kg / 309 Ib
Finish: Black piano finish, custom finishes available
Downloads:
Fact sheet
Owner's manual
Installation manual
Technical drawings
Pictures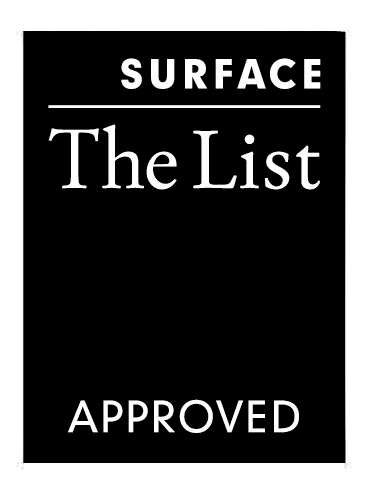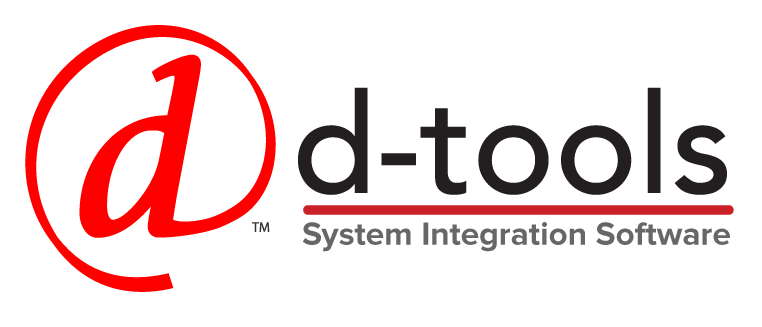 The perfect piano
The Steinway & Sons Model B speaker is named after "the perfect piano". The Steinway & Sons Model B piano is a wonderfully balanced and versatile instrument that does extremely well in refined homes, teaching studios, and mid-sized venues.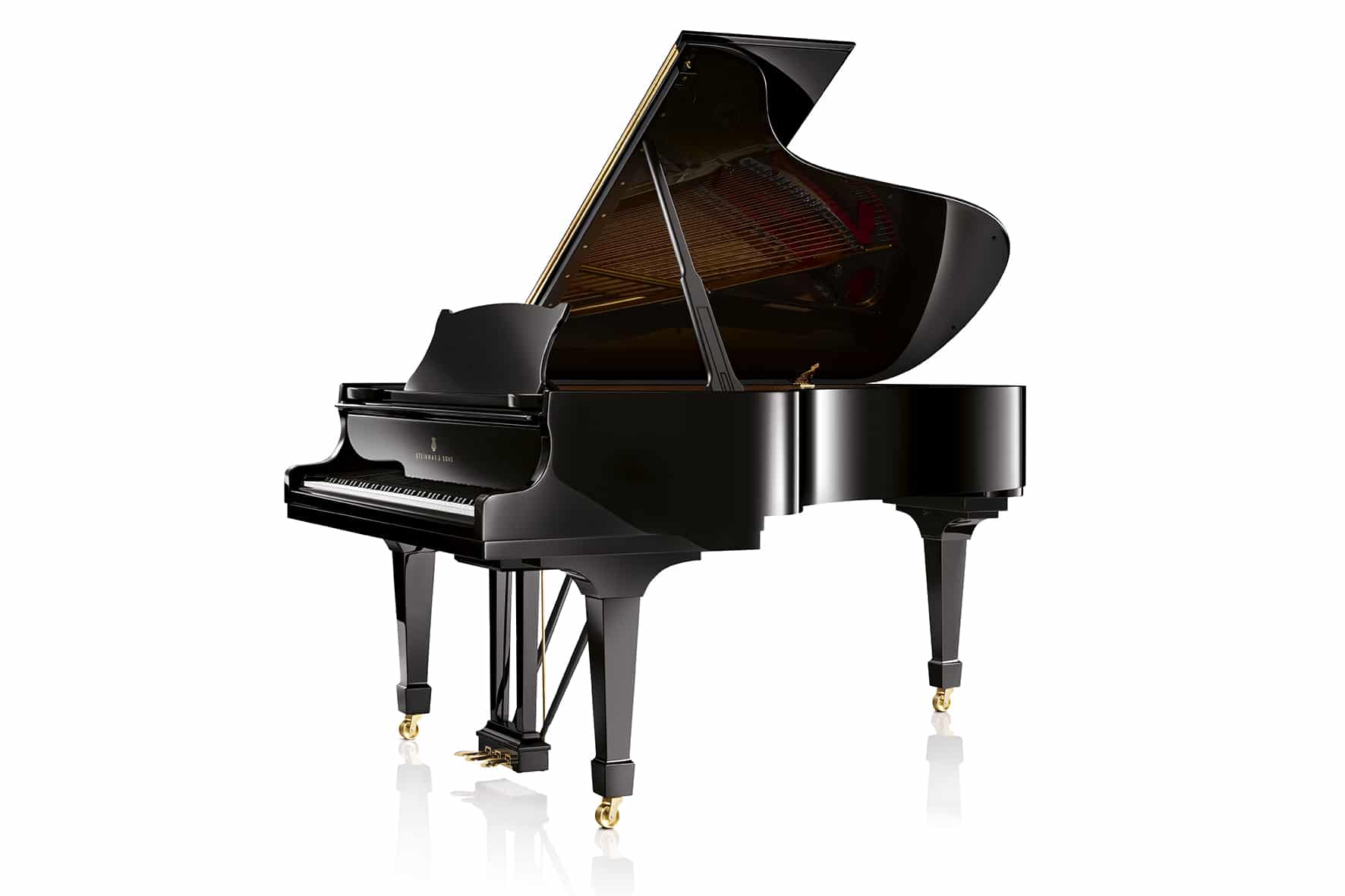 Integrated system approach
All Steinway & Sons products can be combined for individual Steinway & Sons sound systems and follow our integrated system approach. The chosen loudspeakers are programmed into the processor, and amplifiers are connected reliably using our own digital signal connection. RoomPerfect™ will further acoustically calibrate the loudspeakers to the room. With this integrated system approach, we can guarantee the legacy of absolute perfection that comes with the Steinway & Sons partnership. A perfection which can never be attained mixing products "off the shelf" from different manufacturers.
This loudspeaker can be combined with the following models, depending on the room and customer wishes.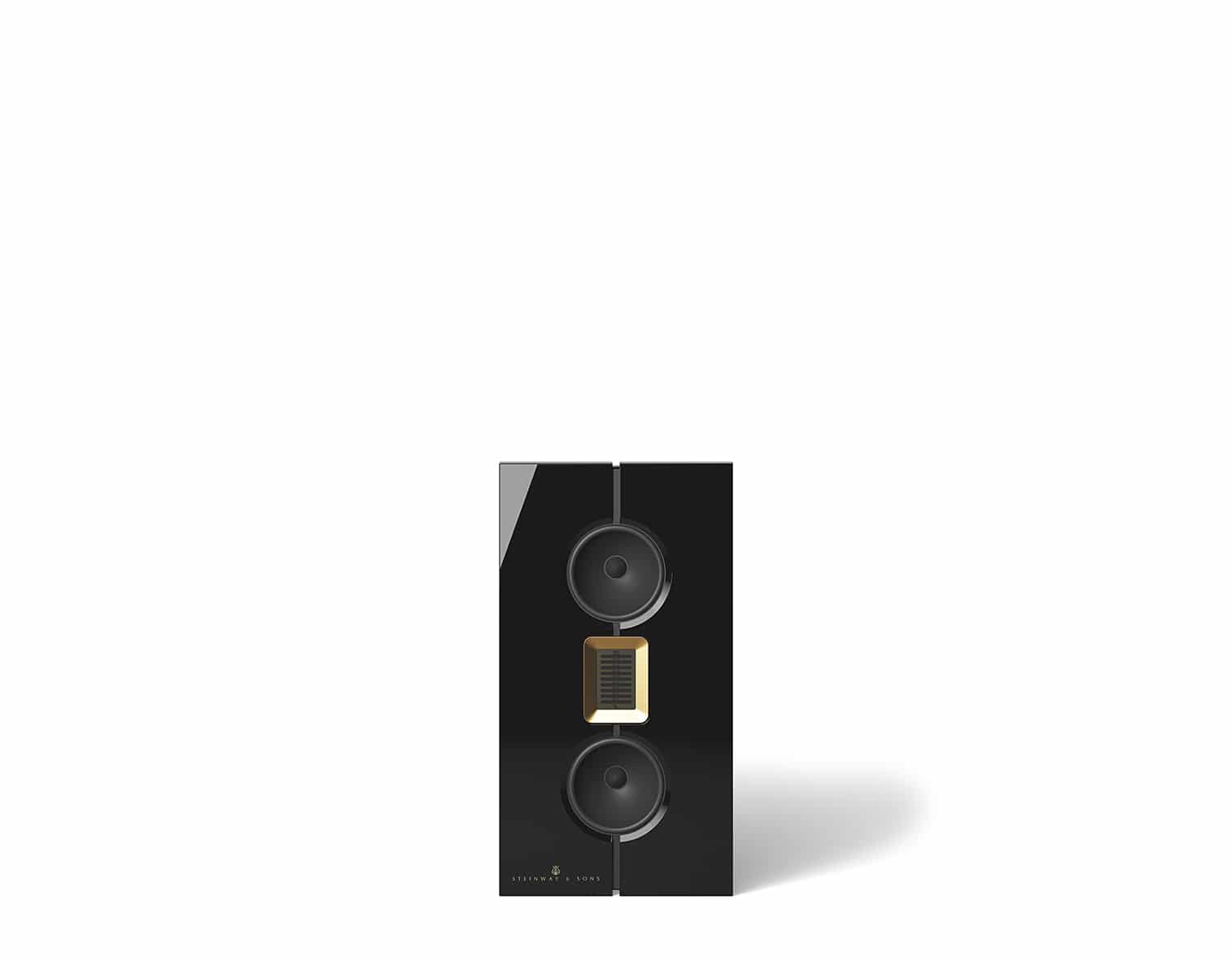 STEINWAY & SONS model m l/r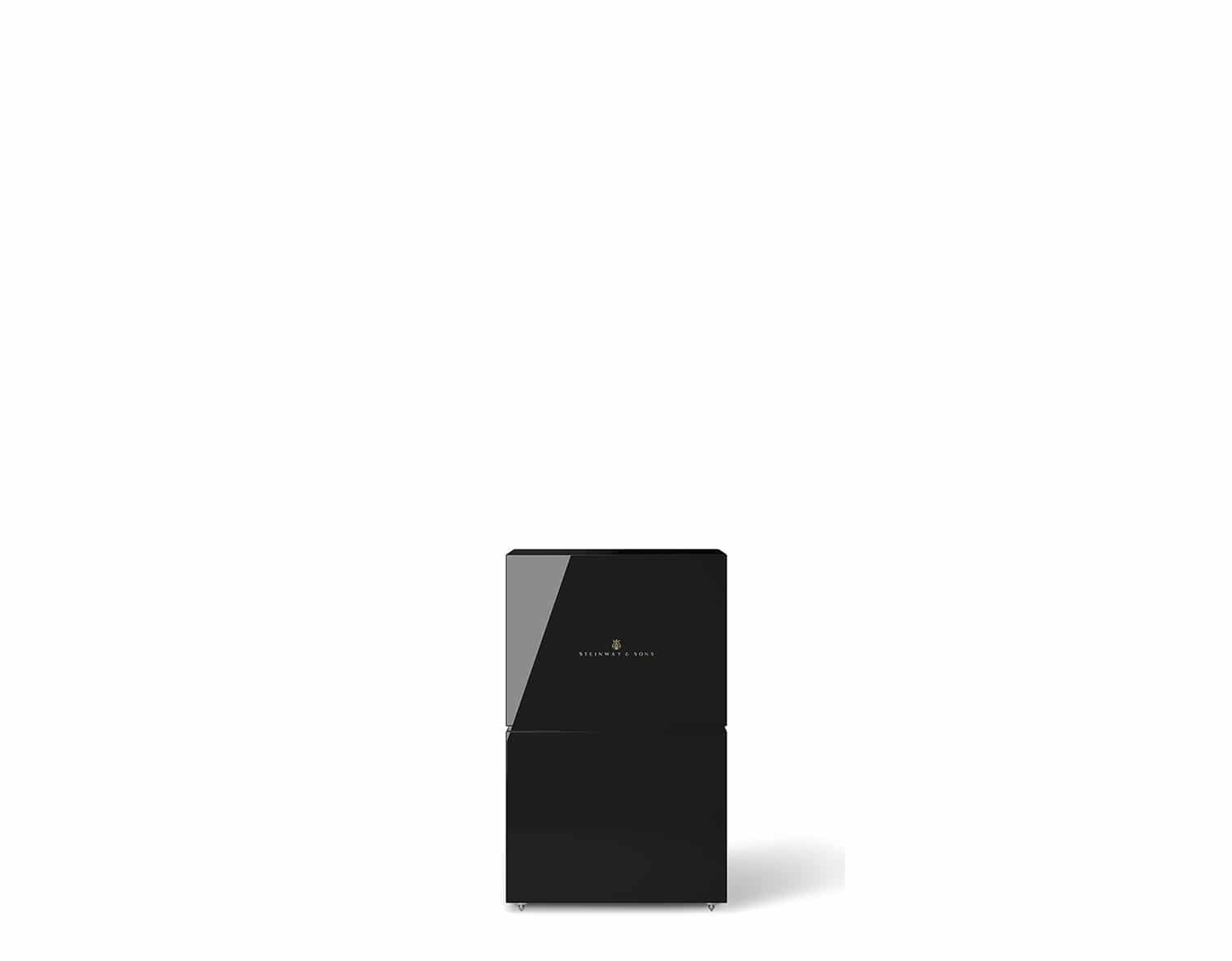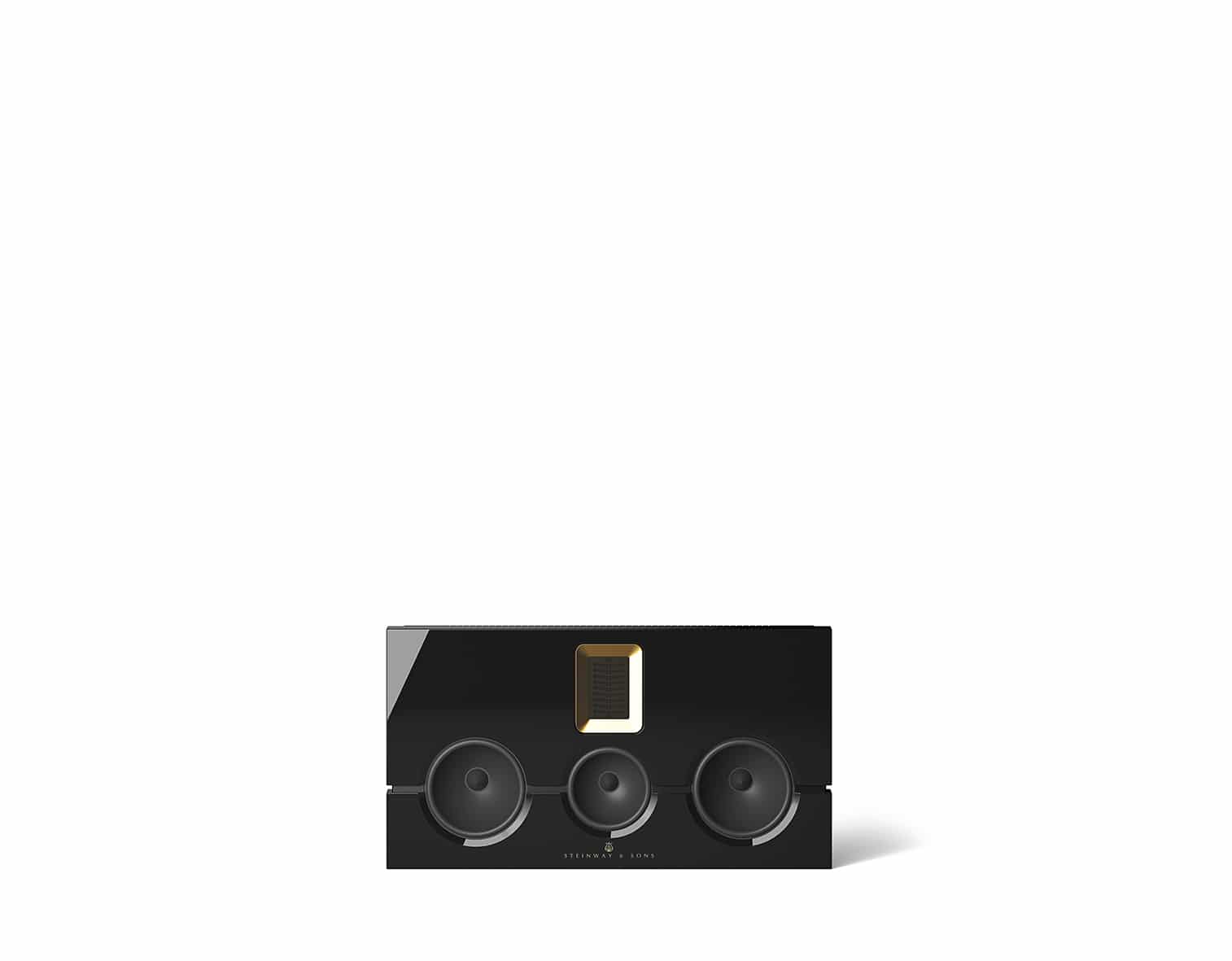 STEINWAY & SONS Model M center