CEDIA Expo 2018 highlights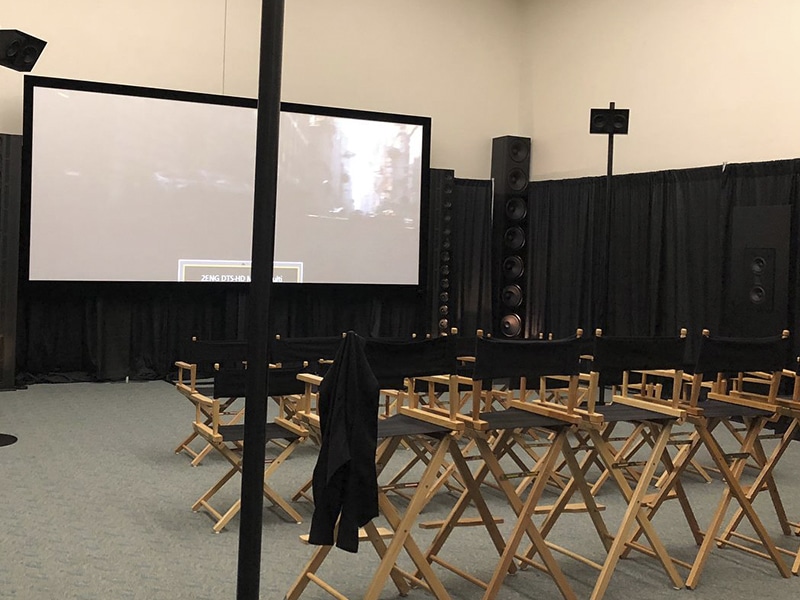 Massive Model LS and IW-66 Atmos theater
The Model LS made a long overdue return to CEDIA in the form of a massive home theater this year. Using 8 LS boundary woofers with a total of 16 x 12″ drivers, we created a huge Atmos theater which featured the IW-66 for rear surround speakers. We ran demos by appointment only every hour to showcase the Model LS speakers' ability to play music and movies with equal accuracy and power. From the acoustic strains of David Gilmore and Roger Waters to the heart-pounding race of Ready Player One, visitors heard – and experienced – every detail of the clip taking them on a ride they won't soon forget.
New product unveiling
Visitors to our demo room also saw the unveiling of four new products in our Steinway & Sons collection:
The Steinway & Sons Model O loudspeaker is our smallest full-range, free-standing speaker yet.
The Steinway & Sons IC-16 in-ceiling speaker for immersive sound formats was shown with our new mounting kits.
The new in-wall mounting kits provide an easy solution for in-wall and in-ceiling installations and are finished with a magnetic bezel-less grill.
The last new product was an upgraded versions of our statement Head Unit processor, taking it from a stereo solution to an advanced multi-channel processor supporting the latest audio and video formats.
US launch of the Steinway & Sons Model B
First unveiled earlier this year at Europe's ISE show, CEDIA Expo marked the first official unveiling for the Steinway & Sons Model B. At CEDIA, the Model B was shown in a custom pearl grey finish with chrome accents. This special edition set was originally produced for Samsung's launch of their microLED display The Wall at InfoComm 2018.
Lyngdorf Audio
Visitors could experience Lyngdorf Audio in two locations on the main show floor. At the Roon booth, we showcased both the TDAI-3400 and the MP-50 processor. Barco Residential's booth featured a full 5-channel Lyngdorf Audio set-up complete with our new FR-1 speakers, MH-2 speakers for the surrounds, and of course, the MP-50 processor with SDA amplifiers.
Multiple award wins
Last but not least, we had multiple award wins at this year's Expo! Both the Lyngdorf TDAI-3400 and the Steinway & Sons Model B were awarded the EXC!TE Award 2018, which is the result of an industry-wide search for the best products available to the industry this year. We were also very proud to be featured in the highest category of home theater at this year's CEDIA 2018 awards. Our partner, One Touch Living, won the award for the highest category of Best Home Cinema Americas with a theater featuring Steinway Lyngdorf's powerful In-Wall Series with the IW-66 speakers.
We hope to see you again at CEDIA 2019 in Denver!
Get the latest news in your inbox!