Steinway Lyngdorf launches high-performance cinema collection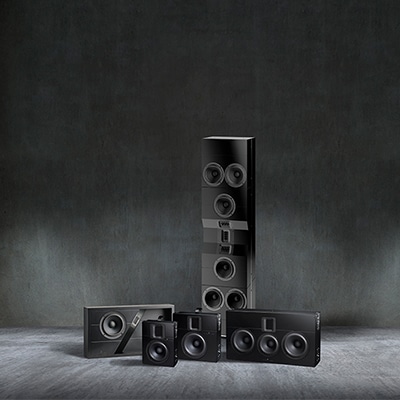 Steinway Lyngdorf is proud to announce the official launch of its new high-performance cinema speakers at CEDIA Expo 2016. Designed specifically as solutions for larger dedicated theaters and for the new immersive sound formats, the new collection is comprised of the grand IW-66 in-wall speaker and IC-26, a powerful angled ceiling speaker specifically designed for immersive sound formats.
Focused performance
The IW-66 is a true d'Appolito configuration for focused vertical dispersion, thus eliminating the critical first ceiling and floor reflections. In order to achieve the same focused vertical dispersion in the treble and still handle the necessary power, Steinway Lyngdorf engineers developed FAT™ (Focusing Array Tweeter) technology, which uses an array of three Air Motion Transformer tweeters. This ingenious solution means that the center tweeter will handle the highest frequencies and the upper and lower tweeters will handle the low treble, giving the array the necessary power capabilities and maintaining the same dispersion as the d'Appolito configured mid/woofers.
Effortless power
The IW-66's sensitivity is an impressive 95dB, and with its six 6½" mid/woofers and three Air Motion Transformer (AMT) tweeters, it handles no less than 2 x 400W / 2 X 800 peak. This means reaching 105dB at 4m / 13ft only requires 128W, and one can still reach reference level at a distance of 15m / 50ft. The speaker has plenty of headroom to reproduce everything from the faintest detail to the most massive sound effects.
"The IW-66 is a grand performer—it combines striking power with advanced technologies to ensure the most stunning sound experience possible in medium and large home theaters. It perfectly bridges the gap between our regular in-wall speakers and our legendary line source speakers." Thomas Birkelund, CEO, Steinway Lyngdorf
Versatile placement options
The IC-26 speaker is the perfect choice for immersive sound formats, as its angled design allows for optimum coverage of the entire listening area. It offers extremely versatile placement options, designed for perfect performance when placed inside a wall or ceiling, but also when placed in "free air."
Powerful immersive effects
As the IC-26 can be placed above the ceiling—in "free air" with no support from boundaries—it was designed with two very potent 6½" woofers. This makes it powerful enough to deliver ample sound pressure levels even when placed in difficult locations. The woofers are accompanied by an AMT tweeter.
"Steinway Lyngdorf has always made flexibility a priority, but never at the expense of performance. The new IC-26 is a perfect illustration of this—the speaker's versatility is remarkable and will be very pleasing to clients and installers working with unique settings. But even more impressive is the immersive performance of the speakers, which must be experienced to be believed." Thomas Birkelund, CEO, Steinway Lyngdorf
Get the latest news in your inbox!