Home Theater
The Ultimate Entertainment Complex
With an unprecedented level of attention to detail, this intricate theater project spanned five years and won CEDIA's 2013 Electronic Lifestyles Award for Best Overall Home Theater ($1m and up) and a Gold Technical Award for design and engineering excellence.
A Model LS system was installed in the 15-seat theater to deliver extreme sound pressure levels while maintaining outstanding dynamic headroom. All speakers are hidden behind acoustically-transparent materials, allowing the decorative elements of the room to take center stage. This elaborate home was showcased on HGTV's Million Dollar Rooms, a television series which highlights the very best in high-end design and luxury living around the globe.
Products used: LS center, LS l/r, LS bw
Installation by: Audio Images
Theater design by: Theo Kalomirakis Theaters
Technical design by: SH Acoustics
"The scope of the project was immense, but it was the attention to detail and the requirement to use the best possible materials that made it unique. The private home theater was no exception, and I was delighted that Steinway Lyngdorf's Model LS was chosen for the audio system. It is the only system that can deliver the exceptional level of performance required for this very special project."
Designer Theo Kalomirakis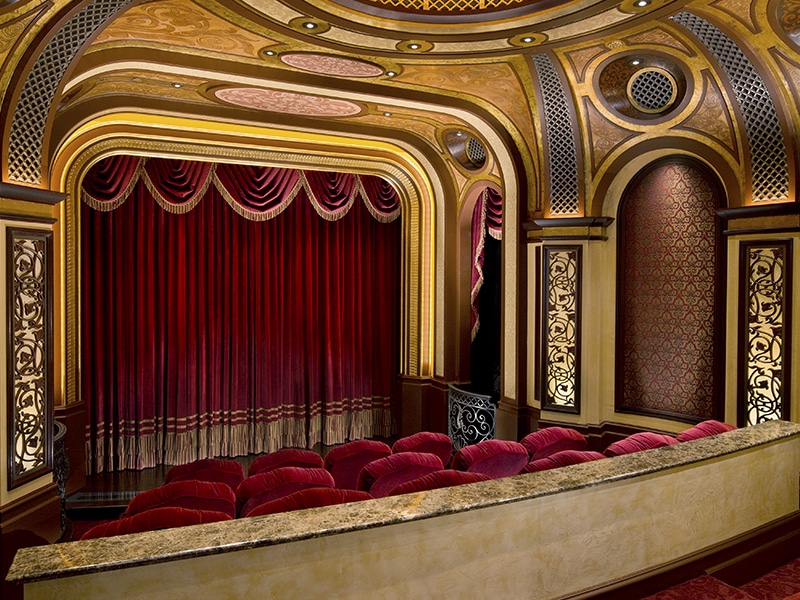 Products used in this case:
Want to make your own home theater?